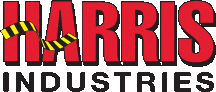 SPECIALTY TAPES
CARTON SEALING TAPES - Technical Specs Now Available. See Below
CUSTOM PRINTED CARTON SEALING TAPES
VINYL ELECTRICAL TAPE - Technical Specs Now Available. See Below
CARTON SEALING TAPES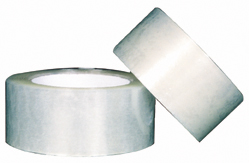 For package and carton sealing, use our strong and economical shipping tapes. Water resistant with an aggressive permanent adhesive, these polypropylene tapes get the job done. Available in 2" x 55 yard rolls in Tan, White and Clear.
Cat No.
Size
Color
ST001
2" x 55 yds.
Tan, White, Clear
Carton Sealing Tape Technical Specifications

CUSTOM PRINTED CARTON SEALING TAPES

Customize your shipments with our Custom Printed Carton Sealing Tapes. These 2" x 55 and 2" x 110 yard rolls are available in Tan, White and Clear, with your own custom legend printed with any standard color. Can print up to two colors maximum.
Cat No.
Size
Color
KST-5
2" x 55 yds.
Tan, White, Clear
KST-10
2" x 110 yds.
Tan, White, Clear

UPVC FLUORESCENT TAPE (Pressure-Sensitive)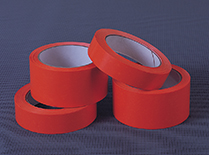 Enhance safety with our international red-orange pressure-sensitive fluorescent tape. Made of durable, scuff resistant vinyl, tape provides for fast and easy identification. Color resists fading from exposure to sunlight. Custom widths available. Tape can be used anywhere:
Aisle Marking
Fences
Poles
Barricades
Hats
Steps
Equipment
Machinery
Trucks
Cat No.
Size
UPVC-2
2" x 72 yds.

PACKAGING LABELS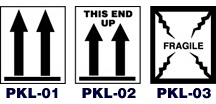 PKL-01
PKL-02
PKL-03
3" w x 4" h
3" w x 5" h
4" w x 4" h
Avoid costly and unnecessary damage to your product with our Packaging Labels. These black on white labels help prevent damage from happening, but can also be helpful when filing a claim if an accident does occur. Labels are packged in rolls of 500.

CLOTH DUCT TAPE
See New Colors!

Our polyethylene coated cloth duct tape with its natural rubber adhesive offers excellent bond strength and water-proofing qualities. The coating permits easy release from the roll and provides extra conformability for a neater job. Designed specifically for duct sealing, it is also used for splicing, sealing, patching, sound dampening, water-proofing and as a carpet padding tape. The possibilities are endless! Colors available are: Grey, Black, Yellow, Green, Red and Blue. Specify Color when placing order.
Cat No.
Size
KD-2
2" x 60 yds.

DOUBLE FACE FOAM TAPE
New Product
A 1/32" double coated cross-lined polyethylene foam. This closed cell foam has low water absorption, is flexible and resilient. Foam is coated on both sides with a rubber based pressure-sensitive adhesive, making this high-tack double face tape ideal for most mounting, holding and splicing applications. Great for mounting nameplates, posters or signs. This extra thick tape is also excellent for laminating all types of materials such as plastic, cork, cloth or felt. Indispensable for point of purchase displays.
Available in a variety of thickness, widths and lengths. Please call for details.
Double Coated Foam Mounting Tape Technical Specifications

VINYL ELECTRICAL TAPE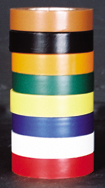 Our all weather vinyl electrical tapes are excellent for both indoor and outdoor applications. They offer flexibility and pliability to adhere and conform to the most irregular surfaces. These UL approved tapes are highly resistant to sun, water, oil, acids, alkalies, corrosive chemicals and aging.
Uses Include: General splicing, harness wrapping, weather-proofing inside and outdoor connections and receptacles and color coding for quick and easy identification. Please specify color: Black, White, Red, Blue, Green, Grey, Orange or Yellow. 10 rolls per package.
Electrical Tape Technical Specifications
Please Note that rolls are 6 feet longer!
Cat No.
Size
VE-75
3/4" x 66'

GENERAL PURPOSE MASKING TAPE

An all-purpose economical masking tape with a rubber-based adhesive. This medium tack, utility grade tape offers good strength and adhesion for masking, bundling, sealing, splicing and surface protection. Resists water, solvents and oils. Conformable to odd shapes and irregular surfaces.
Cat No.
Size
GP-75
3/4" x 60 yds.
GP-1
1" x 60 yds.
GP-2
2" x 60 yds.

Return to Home Page
---
For more information Call us at Phone: 800-222-6866 - 714-898-8048 or by Fax: 800-228-1274
or if you prefer you can contact us direct by email
---
© Harris Industries, Inc. 2004

Revised 7/14/06